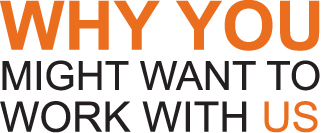 The two gentlemen named Donahoe and Pace are a couple of seasoned vets with a great deal of experience who've surrounded themselves with some of the brightest people either of them have ever met.
It took years to sort through the chaff in order to offer our clients the whole grain goodness you'll find here (metaphor needs work).
The
Partners
in Donahoe Pace and Partners.
They're specialists in design, public relations, interactive marketing, tech launches, and just about every critical discipline needed to make things happen in today's market.
Some of them work in our office in the Hoff Building at 8th & Bannock in Boise, and some of them don't. We do know them all to be very collaborative, really nice, extraordinarily talented, and enormously passionate about helping YOU make a difference with THEM.
Depending on the scope of our relationship with YOU, you will get to know them a lot better.
Foerstel Design
,
Tracy Communications
,
Sitewire Interactive
,
Stratus Global Partners